Within the stunning Montgó Natural Park, lies the incomparable Cabo de la Nao. This stunning spot captivates residents and tourists alike with its beauty and the way it bathes Jávea's coastline in blue.
When you visit and walk through it, you will understand why it is considered one of the most beautiful landscapes in Spain.
How to get to Cabo de la Nao in Jávea?
This jewel of the Mediterranean awaits you in the south of the Gulf of Valencia, to be discovered. Not only does it offer truly unbeatable views. In addition to that, the journey does not present any major challenges for tourists, thanks to its advantageous location.
The route can be done by land with varied itineraries to suit the service of your choice. Since from Jávea, you can arrive by car and look for options in terms of alternative routes to travel the 8km and arrive in less than 15 minutes.
You have the Denia and Gata roads as options to go to Cabo de la Nao in Jávea, although the Carretera La Guardia, will give you some surprises on the way.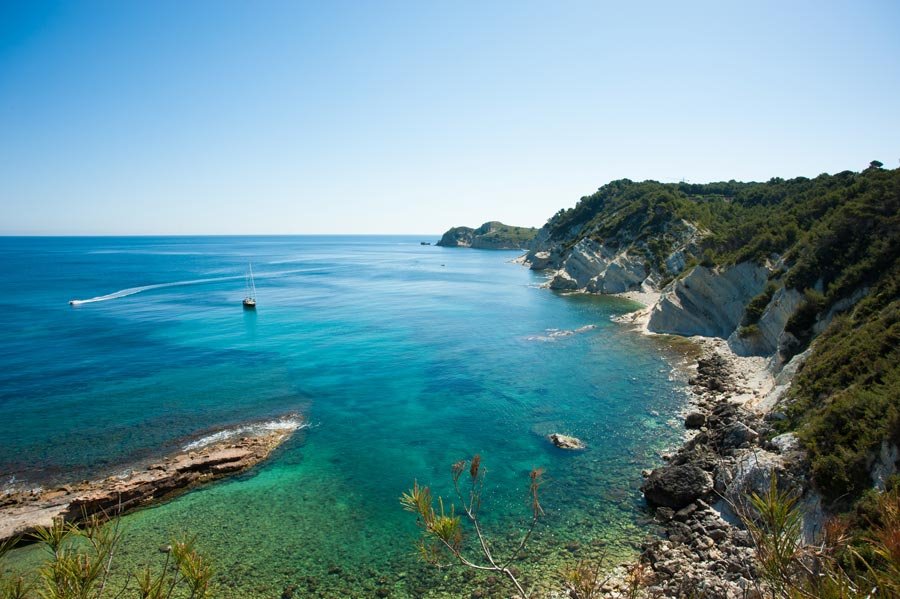 What to do at Cabo de la Nao in Jávea?
The natural attraction and all that this place has to offer make it a must on your list of adventures.
The Cabo de la Nao lighthouse, as well as the unforgettable Jávea Baths, will give you the opportunity to enjoy one of the best experiences. And to top it all off, with the marvellous waters of Ambolo Beach.
Here is a description of what you can find in each of these sites:
Visit to the Cabo de la Nao Lighthouse
A sunset from the lighthouse is one of the most rewarding gifts nature can ever give you. When you arrive and encounter such a view, the impact will take your breath away and then give you an incomparable sense of fulfilment.
You can simply sit and contemplate the panoramic views or have a picnic with the coast, the islets and cliffs in the background. It's easy to get there, just a short walk after getting out of the car.
Go to Ambolo Beach or Ambolo Cove
If you have to choose just one adjective to describe the charm of this cove, the most appropriate would probably be "breathtaking". But it's hard enough to find words to do justice to this magical landscape.
You might think it is hidden, but in reality its search awakens the more adventurous spirits who manage to find it easily. It looks splendid with its crystalline waters that you can enjoy calmly, since it is not crowded with people.
The cobbled path of this low cove keeps it sheltered, with almost untouched waters.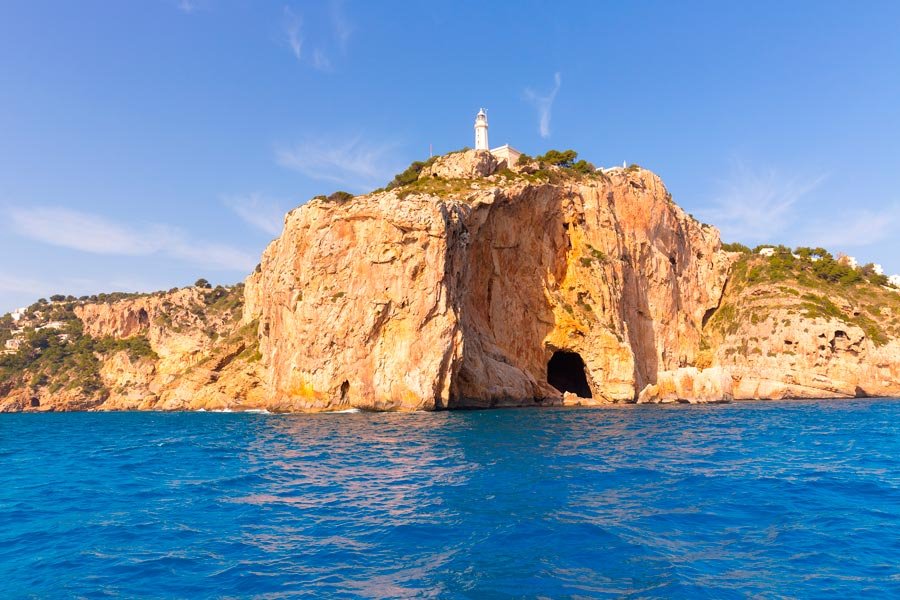 Discover and visit the Baths of Jávea
In Jávea you can find the perfect fusion of natural and cultural wealth. These baths are of great historical relevance, allowing you to take a glimpse into the past while enjoying the present.
These baths are testimony to the passage of the Romans through this territory and the footprint of what was once a great empire. The presence of these structures makes Jávea a unique place, being the ideal setting that has conquered its visitors from more than 2000 years ago to the present day.
Enjoy the dream life in Jávea with the best properties near Cabo de la Nao
To make the most of your visits to these spectacular places, you would only need to live close by all year round and your home to be able to live up to this experience. A comfortable and welcoming environment that welcomes you after a long day exploring and letting yourself be dazzled by the Cabo de la Nao in Jávea.
Fortunately, such a place exists and is waiting to be the ally you need in your tour of the Costa Blanca. MoraguesPons: Mediterranean Houses, has properties to suit your preferences, villas and flats of your choice.
It gives you everything you need to create memories that will stay with you for the rest of your life, with a big smile and the desire to come back.
Request your real estate non-binding consultation
Responsable: DESARROLLOS MORAGUES PUGA S.L.
Finalidad: Gestión del formulario de contacto.
Legitimación: Consentimiento del interesado.
Destinatarios: Cesiones y/o transferencias a terceras empresas y/o organismos tal y como se indica en la información adicional.
Derechos: Acceso, rectificación, oposición y limitación.
Información adicional: Ver política de privacidad.