A secluded place, protected and wonderfully adorned by the benefits of nature. This is how André Lambert described this cove, which is located on the coast of Xàbia between Cala Blanca and Cap de Saint Martí. He discovered it and immediately fell in love with it so much that he decided to make it his home.
Now known as Cala del Francés in Jávea, it is characterised by the predominance of gravel, a small cove with crystal clear turquoise waters and a seabed that is ideal for water sports such as snorkelling.
The views of the bay of Xàbia make it an enchanting place, from where you can see Cala Blanca, Montgó and the cape of San Antonio.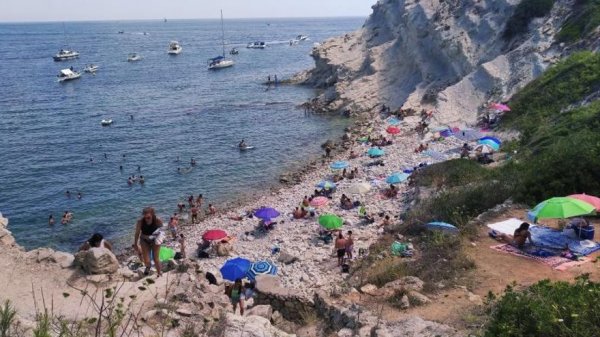 The origin of this secret cove
The origin of this secret cove is due to a walk made by the renowned artist André Lambert, when he was visiting the Valencian Community and Alicante in the 1920s.
He took a friend's recommendation to go to Xàbia, and was so taken by the place that he and his wife decided that this would be the place they wanted to live until the end of their lives.
The small village of fishermen and farmers, sheltered under the shadows of the Montgó mountain, seemed so idyllic to them that they immediately bought 10 hectares of land by the sea and Lambert set about building a house in Portitxol.
As the house was located above a practically hidden cove, it gave rise to the name Cala del Francés (Frenchman's Cove) from the moment it was built. French was the language spoken by the Lamberts among themselves, even though they were Swiss.
The Lambert family, in love with the place for its architecture and its people, dedicated themselves to promote the municipality of Xàbia all over Europe.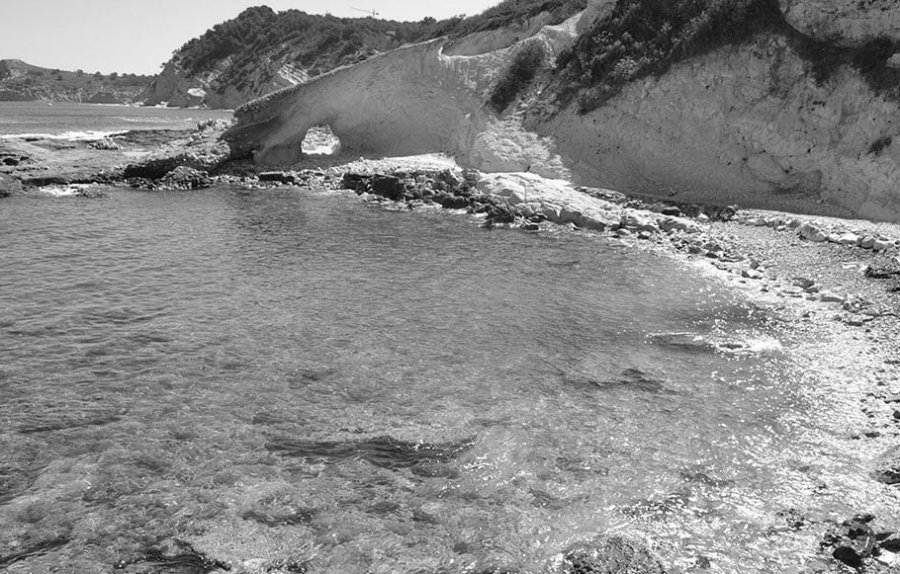 How to get to and access Cala del Francés?
The house built by the Lambert family is located right on the pass leading to this cove, which was kept secret from the public for a long time and could only be used by the family.
Jávea's Cala del Francés has a somewhat complicated access, which includes two alternatives. The first is by sea and the second by land, walking along an almost hidden path.
The route to the cove by sea must start from Cala Blanca, from there you reach the second cove and start to skirt the coast to reach Cala del Francés. This option is a bit risky and uncomfortable due to its orography. A very common option for visitors is by kayak, and another option is by boat.
If you choose to reach the Cala del Francés de Jávea by land, the route is done on foot. This possibility of hiking, from Cala Blanca, goes through the Mirador de Les Caletes, crossing a gate with black bars.
Although on occasions this family has wanted to restrict passage through their property, they have not been able to do so, as this cove is public and this passage is the only access available by land.
Either way will mean nothing, as you encounter all the wonders of this fantastic place.
Buying a villa in Jávea near Cala del Francés
If you have been impressed by the area of Jávea and want to buy a villa in Jávea, contact us, take a look at our available properties and we will be happy to assist you, guide you and accompany you in the purchase of any property in Jávea.
Trust in professionals like MoraguesPons Mediterranean Houses.
Request your real estate non-binding consultation
Responsable: DESARROLLOS MORAGUES PUGA S.L.
Finalidad: Gestión del formulario de contacto.
Legitimación: Consentimiento del interesado.
Destinatarios: Cesiones y/o transferencias a terceras empresas y/o organismos tal y como se indica en la información adicional.
Derechos: Acceso, rectificación, oposición y limitación.
Información adicional: Ver política de privacidad.