Villas for sale in Jávea with pool
The villas in Jávea are spacious luxury properties, usually with a personal swimming pool where you can enjoy the hot days. Many people dream of owning a large property with a swimming pool so that they can have all the fun of leaving their room, the aquatic entertainment is suitable for all ages and generates a good family atmosphere.
The hot summer season makes Jávea, which is a coastal region, one of the hottest areas in the country; however, they have become one of the best heat management areas, incorporating luxurious swimming pools in their houses and villas.
Enjoy with your family the villas for sale in Jávea with swimming pool
The pool areas incorporated in the villas for sale in Jávea, are capable of generating the family atmosphere you have always dreamed of, turning all your weekends into a moment of family fun, where you can carry out countless activities, generating happiness and comfort in your surroundings.
At the same time, you will be able to guarantee your social events and celebrate birthdays for the youngest members of the family with aquatic entertainment, and having a permanent aquatic entertainment space will allow you to resolve your festivities and unplanned celebrations.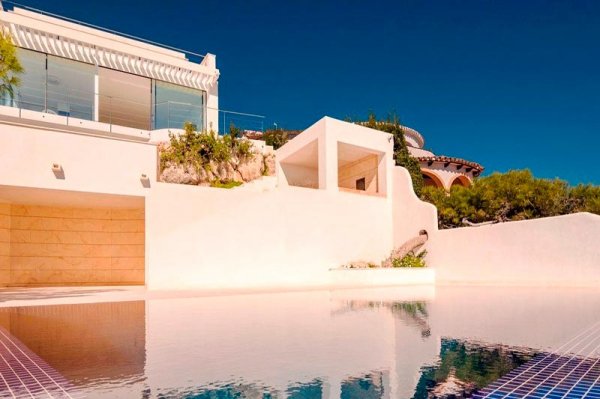 Areas in Jávea to buy villas with swimming pool
In Jávea, you can find villas with swimming pool in different areas, each one with specific characteristics and advantages that meet the expectations of each person; where the areas such as Balcón al Mar, Granadella and Portixol, are the most renowned and recognised throughout Spain.
To buy villas in Jávea with swimming pool, know a little more about its luxury areas, wide green spaces, with swimming pools of different sizes and peculiarities to achieve the family and social atmosphere that you want so much.
Villas with pool in Balcón al Mar
In this area of Jávea, you can find many villas and residences with swimming pools for holidays, although most of them are for rent, the ones for sale are the most dazzling in their external and internal aspect.
Get villas with up to 5 bedrooms, where you will not only find direct enjoyment in the swimming pool, but you will also be able to entertain yourself with the natural spaces that are found around it; as well as having a number of sports centres and above all, having the proximity of beautiful beaches such as Playa del Arenal and the garden of L'Albarda where horse riding is practised.
Villas with pool in La Granadella
The area of La Granadella is only a few kilometres from one of Jávea's favourite beaches, Playa Granadella; its main attraction is the water activities.
It has a close link between its luxurious villas with swimming pool and its beach areas. Many of the villas in Granadella that are available to you have beautiful views of the surrounding coastal areas.
It is an opportunity to enjoy a life of permanent beach charm, as well as rejoice in a beautiful beach view by day and night. This region is suitable for family and social environments of all ages and cultures.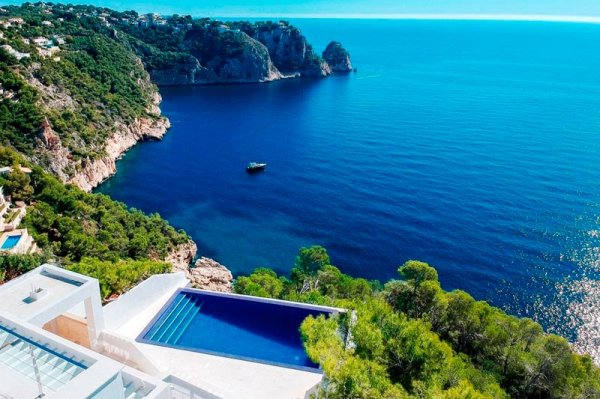 Villas with pool in Portixol
On the other hand, the villas with swimming pool in El Portixol, as in Granadella, have beautiful villas with sea views, privileged places where not only the swimming pool merges with the sea, but where you can also enjoy large freshwater pools, as well as the proximity to the sea. Buying a property in El Portixol will make you a permanent sea lover.
Get various options to suit your expectations, where most of these villas will offer you beautiful beach views, water sports activities such as diving, snorkelling, kayaking and of course immediate and endless entertainment thanks to their sophisticated in-house swimming pools.
Request your real estate non-binding consultation
Responsable: DESARROLLOS MORAGUES PUGA S.L.
Finalidad: Gestión del formulario de contacto.
Legitimación: Consentimiento del interesado.
Destinatarios: Cesiones y/o transferencias a terceras empresas y/o organismos tal y como se indica en la información adicional.
Derechos: Acceso, rectificación, oposición y limitación.
Información adicional: Ver política de privacidad.