If you ask those who have had the privilege of visiting this part of the world why it is so desirable, they will surely answer because Javea has the best coves in the Mediterranean. Its varied orography makes this place a real natural jewel that cannot be ignored for a summer trip.
The presence of the summit of the Montgó, is the one that serves as protection from the storms that come from the north. Perhaps that is why in a study carried out in the 90's, Javea was declared the first best microclimate in the world, followed by Rio de Janeiro in Brazil.
The best coves in Jávea for enjoy
If we combine the climate and the orography we can say that a stay in Jávea can be full of pleasant surprises. This is a fishing village by tradition, but its inhabitants have realized the tourist potential so they have developed plans for tourists to enjoy all its charms.
Activities that can be done both in the mountains, which have a great variety of fauna and flora and the exclusive Calas, among which are those that can only be accessed by boat, which makes them even more mysterious.
We can assure that in the Costa Blanca there is the most beautiful coastline of the Mediterranean thanks to the best coves of Javea. It is a rugged area where there are a series of cliffs that further embellish the coast and makes it a perfect place for adventure, either on foot or by boat.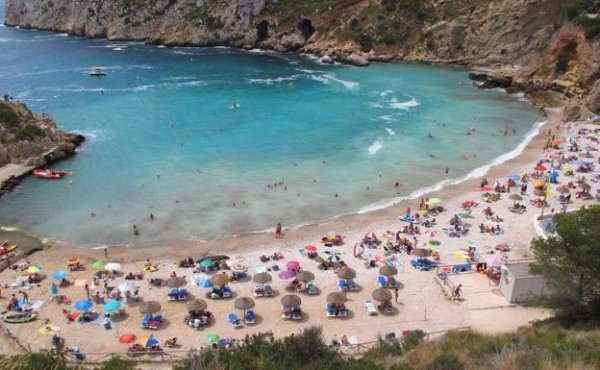 Charming

places where you can find the best coves in Jávea

Long gone are the days when summer was all about lying on the beach and soaking up the sun. Nowadays people prefer to explore and live adventures in the most amazing corners of their tourist routes.

When you visit the best coves of Javea you will be entering a world stopped in time. Thanks to the geography of this town we can see real natural treasures such as the case of "En Caló" known as the secret cove, which is protected by a large rock that fell from the cliff and its access is only possible by sea.
Visit the best coves in Jávea
What you can not miss is to visit the beautiful beaches of crystal clear waters of this place. Here we will give you a brief information about the best coves in Javea that you can not miss.
Cala La Granadella
It is a rustic cove with crystal clear waters, which is why it is awarded with the blue flag every year, making it even more appealing. Its access can be on foot or by sea, either option is highly recommended.
You can get there via the Cabo de Nao road, reach the Mirador, where you take the hiking route down to the cove. Granadella is considered one of the best coves in Javea.
It is located in the centre of a semicircular bay and protected from the waves by the Morro del Castell. All the necessary services such as restaurants and water activities are available. You can explore the sea caves by kayak or enjoy the seabed with snorkeling.
Cala Ambolo
It is known as the nudist beach of Javea, is a paradisiacal place of crystal clear waters about 300 meters long. It is currently closed to visitors due to risk of rockfall.
Its name is due to the watchtower that functioned as a watchtower and maritime defence against pirate attacks. Its access is by the road Cabo de la Nao where you reach the viewpoint of Ambolo from where you reach the place down some stairs.
It is ideal for scuba diving. On the other hand there are no services, so you have to be prepared with water and food.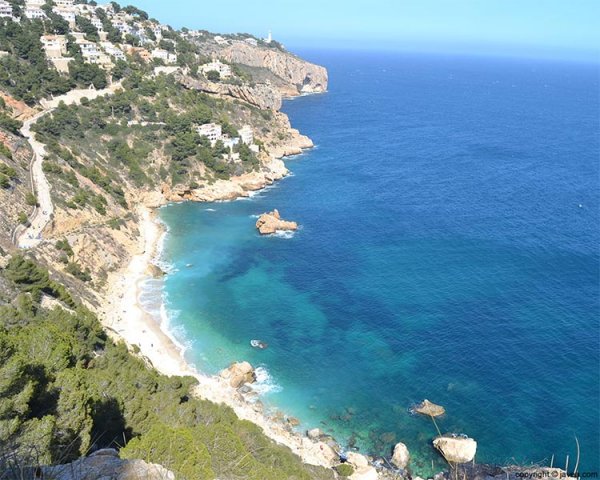 Cala Barraca
or

Cala Portitxol

Considered in recent years as one of the best coves in Javea. This place had gone unnoticed and thanks to social networks tourists have discovered its potential. It is located between Cape Prim and Cape Negre, in front of Portitxol Island, hence its name. It can be reached by road or on foot from the Creu del Portitxol viewpoint.

This cove has restaurants and other services so you don't have to worry about anything. You can also do activities such as snorkeling, kayaking or paddle surfing. One of the most beautiful features is that it is surrounded by cliffs which gives it a sense of privacy.
Cala en Caló, the "secret cove" of Jávea
It is a unique experience to enjoy a day in a place with hardly any people. This is because it is located behind a cliff that hides it completely, so it is known as the secret cove.
To get there you can only go by sea, either by kayak or boat, always trying not to do it by the rough sea, so it is recommended to do it with experts. It is considered as a saltwater spring, it is located between Cala Granadella and Cap De la Nao.
There are many options for fun, from exploring the surroundings to sports such as paddle surfing or kayaking through the various sea caves in the area.
Cala Blanca
It consists of two coves that are connected by a stone bank. It is quite small as one measures 80 meters and the other about 40 meters. However, this does not prevent it from being one of the best coves in Javea, as some tourists prefer it.
Here you can go snorkelling, paddle surfing or windsurfing, the latter two are preferable to do on the beach of Primer Muntanyar, and you can also go on canoe or boat trips from Cala Blanca.
It offers parking services for those who go by car, but there are also public transport routes that reach a stop near the car park.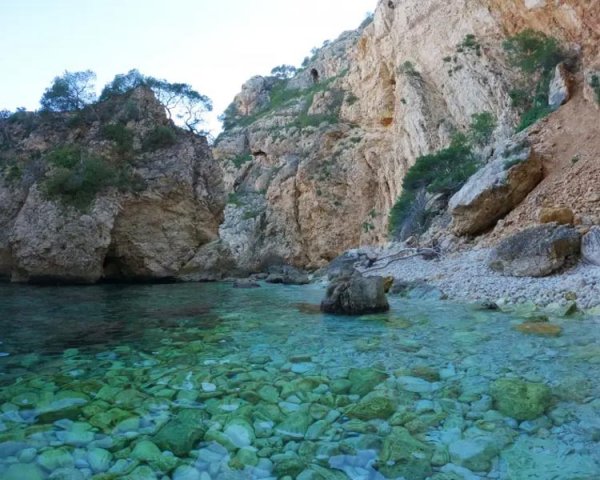 Request your real estate non-binding consultation
Responsable: DESARROLLOS MORAGUES PUGA S.L.
Finalidad: Gestión del formulario de contacto.
Legitimación: Consentimiento del interesado.
Destinatarios: Cesiones y/o transferencias a terceras empresas y/o organismos tal y como se indica en la información adicional.
Derechos: Acceso, rectificación, oposición y limitación.
Información adicional: Ver política de privacidad.