Flats for sale in Jávea with sea views
Flats are comfortable, safe and can be more practical and compact than a house, but if you have a flat in a coastal area, you can have access to spectacular sea views, which only a place like Jávea can give you.
The flats have balconies that provide the best sea views you will ever see, giving natural light to the whole place and at night, the city lights will give you a beautiful show before you go to sleep.
A flat can be as beautiful and comfortable as a house, so it is a great investment, to enjoy the wonders that Jávea has to offer.
Jávea flats with sea views for sale to enjoy the Costa Blanca
The flats in Jávea with sea views are very close to the beach, some just a few minutes walk and others just a short drive away, but all are beautiful and can brighten up your day when you look out onto your balcony and see the sea from your home.
With the sea so close, you can come and go as you please, you can spend the day bathing in the waters of the Mediterranean, having fun with your loved ones and then you can go back to your flat and have a good night's rest.
Enjoy all the benefits of having a flat with sea views in Jávea, your days will be brighter and more pleasant.
Ideal areas to buy flats in Jávea with sea views
The ideal areas to buy flats with sea views in Jávea are those that are close to the sea and in Jávea there are many with easy access to the water, so you just have to choose the one you like the most and that suits your needs.
The Port of Jávea and Arenal Beach are the most popular areas for people looking for a flat with a sea view, not only are they beautiful but they also have beautiful flats ideal for the whole family.
Any of these areas is perfect to buy your flat with sea view, you just have to visit them and decide which one is the best for yourself.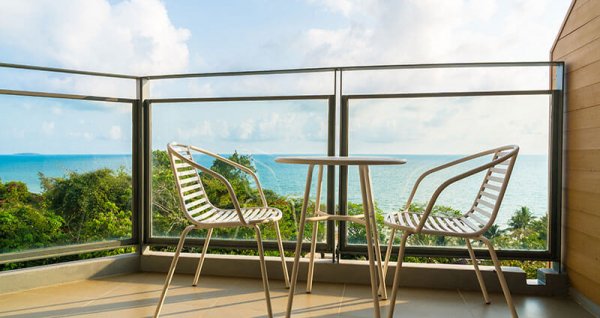 Buy flats with sea views in the Port area of Jávea
The Port of Jávea is one of the emblematic areas of the area, where the boats and yachts of the local residents dock, which is why it is one of the ideal places to buy a flat with a sea view.
In this area there are properties of the highest quality, with the number of rooms you require, but above all with spectacular sea views and close to all amenities such as restaurants, shops, supermarkets, among others.
These sea view flats are perfect for families or couples wishing to start their life in this beautiful area of Jávea.
Buy flats with sea views in the Arenal Beach area in Jávea
The Arenal Beach in Jávea is a beautiful area where you can find beautiful flats with sea views, with spectacular balconies where you can receive your loved ones and enjoy a nice time, watching a beautiful view.
These flats come in different sizes, so you can choose the one that suits you best. They also have common areas and some of them have a swimming pool and garden.
One advantage of these flats is that they are very close to the beach, so you can go to the beach whenever you want and then return to your flat, a convenience that only sea lovers will appreciate.
Contact MORAGUESPONS to discover all the flats with sea views in Jávea that we have available.
If you want to start looking for your flat with sea views in Jávea, in MORAGUESPONS Mediterranean Houses we can help you to find the flat of your dreams, pointing out the best ones in the market and the ones that fit your needs.
The flats with sea view that we have for sale are the dream of any owner and of people who wish to live a quiet life next to the Mediterranean Sea.
Contact us and we will clarify all the doubts you have about the flats with sea views in Jávea, we will help you find the best one for you, so that you can enjoy a spectacular sea view every day.
Request your real estate non-binding consultation
Responsable: DESARROLLOS MORAGUES PUGA S.L.
Finalidad: Gestión del formulario de contacto.
Legitimación: Consentimiento del interesado.
Destinatarios: Cesiones y/o transferencias a terceras empresas y/o organismos tal y como se indica en la información adicional.
Derechos: Acceso, rectificación, oposición y limitación.
Información adicional: Ver política de privacidad.